Strawberry Pomegranate Smoothie Recipe
Sunkist* Strawberry Pomegranate Smoothie
The Sunkist* Smart Smoothie Mix is fortified with fiber, calcium and vitamin C. When adding fresh strawberries, you get an antioxidant rich beverage that is great tasting and good for you. Here's the Strawberry Pomegranate Smoothie recipe from the back of the package that shows just how easy and delicious it is for you to de-tox from your day.
Serves: 3 (8 ounce servings.)
Ingredients: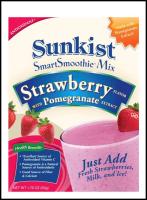 Directions:
In a blender, add strawberries, ice, contents of smoothie mix pouch and milk.
Blend on HIGH for 15 seconds.
*
Sunkist is a registered trademark of Sunkist Growers, Inc.
**
2 1/2 cups frozen strawberries, thawed completely after measuring, may be substituted for fresh strawberries.
Category: Beverages