Banana Walnut Croutons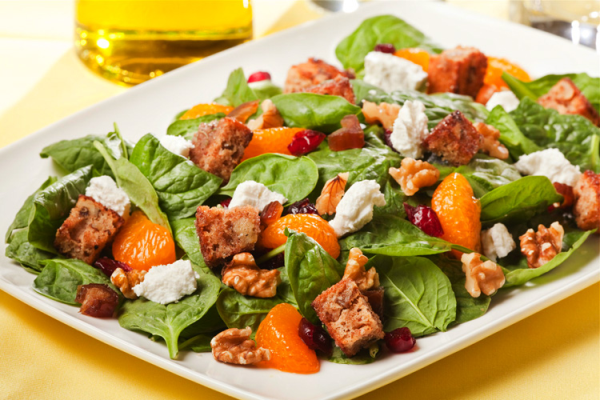 1 loaf Banana Walnut Bread
¼ cup butter, melted
¼ cup sugar
½ tsp ground cinnamon
¾ tsp black pepper
¼ tsp ground nutmeg
¼ tsp thyme
1/8 tsp ginger
Directions:
Preheat oven to 300oF
Slice Banana-walnut bread in ¼" slices. Then cut slices into ½" squares.
Place cut bread onto baking pan and dry in oven for 10 minutes. Remove from oven and cool.
Combine sugar and seasoning in bowl.
Brush cut bread with butter. In a separate bowl add butter croutons, toss with seasoning. Season as desired.
Place croutons on baking pan. Bake in oven for 10 minutes, flip croutons and bake
another 10 minutes, or until desired crispness.
Serve on Spinach, Fruit & Nut with Goat Cheese Salad (or other salad).
Category: Soups & Salads