As we shared in our "Embrace Your Cinco de Mayo Side" post, Cinco de Mayo gains more and more U.S. popularity each year, and many American citizens look forward to celebrating it, even though the holiday originates from Mexico! Who doesn't welcome a festive excuse to break out favorite Mexican recipes after all? We don't know many friends or family members whose mouths don't start watering at the thought of tortillas chips, salsa, guacamole, black bean dip, enchiladas, margaritas, and other fare we all associate with Mexico.
We're going to share with readers standard (and simpler) as well as more unique menu ideas for your Cinco de Mayo celebration, and let you decide what makes the most sense for you and your guests, based on the prep time, your love or lack thereof of cooking and baking, and the taste buds of your party attendees.
Raise the Bar Without a Lot of Heavy Lifting
If your schedule leading up to and around Cinco de Mayo looks to be a busy one with not a lot of time for cooking and baking, why not keep things simple by setting up a taco and/or burrito bar for your guests? Partygoers will love choosing their own toppings and making their own Mexican creation, and you'll love how easy it is to throw together a fun, engaging event for friends and family.
Here's some of the basics you'll want to include in your Mexican bar -- presented in the order you'll want to lay them out on the table that will serve as your bar:
Hard, corn taco shells and/or flour tortillas (burrito wraps) – buy these pre-made and follow package heating instructions, but just a few minutes on a baking sheet in your oven and these should be ready to serve.
Ground beef and/or chicken – use a bit of tomato sauce and chili powder, some pico de gallo, or salsa made from our basic recipe to season hamburger meat or small pieces of sliced chicken.
Refried beans – your easiest option will be to buy canned ones that you can heat quickly, and keep warm in a chafing dish, mini crockpot, or casserole dish with cover.
Black beans – ditto the above.
Chopped lettuce – dice up some iceberg lettuce or go less-traditional and serve up field greens or fresh spinach.
Tomato salsa – combine our salsa mixes with fresh tomatoes, and diced onion; make both hot and mild varieties, and label appropriately, so guests can decide just how spicy they want things to get.
Guacamole – using avocado and a variety of our guacamole mixes, mix up a mixture of guacamole dips – since some will like it hot, and some not.
Shredded cheese – we say, "go for the bright orange cheddar cheese" – it just looks festive!
Sour cream – snag a tub in the dairy aisle and you are good to go!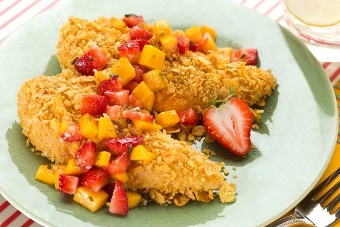 Show Off Your South-of-the-Border Cooking and Baking Chops
For those whose schedules, skills, and desire allow for more elaborate and unique Mexican fare – and honestly, we believe all our readers have the potential to be great cooks if they set their minds to it, and we do keep our recipes simple so everyone can follow them – we've created a series of Cinco de Mayo recipes, from breakfast through dinner and dessert. Your guests will be particularly impressed when you offer up a Mexican dessert like dulce de leche rice pudding and/or coconut lime bars to top off your Cinco de Mayo lunch, dinner, or other get-together.
Need More Inspiration for Your Cinco de Mayo Celebration?
We think our readers will enjoy this wonderful Pinterest board that combines ideas for two Mexican favorites – enchiladas and tamales: https://www.pinterest.com/darlenekm/enchiladas-tamales/. And, if you and your guests are fans of quesadillas, check out this great Pinterest recipe collection. You can also get ideas for all of the aforementioned Mexican favorites – enchiladas, tamales, and quesadillas from our "Celebrating Cinco de Mayo" Pinterest board.
Share Your Sombreros and Sangria!
We'll be talking about Cinco de Mayo using #mayfifth #cincodemayo #mexicanfare and #southoftheborderfare on Twitter, Facebook, Instagram, and Pinterest. We want to hear about and see how you and your guests celebrated the fifth of May, so please do share!