The way that "a spoonful of sugar can help the medicine go down", creating fun creatures and edible artwork out of fruit and vegetables can be the right prescription for getting the children in your life to like and eat their fruit and vegetables.
There's so many great reasons for being creative – literally and figuratively – about getting children to enjoy a large cross-section of produce. We all know that many great nutrients and vitamins are found in fruits and vegetables. But, you can learn more about the many health benefits of various forms of produce by reading our recent blog posts: Conquering Kale, Supe Up Your Diet With Simply Super Strawberries, Fortify with Fruit, and Become a Pro at Vegging Out.
In addition to the health benefits your favorite children will reap from consuming more produce-based drinks and dishes, research has shown that children who learn to experiment with, and hopefully, enjoy, a variety of fruit and veggies at a young age, enjoy a very diverse, produce-rich diet as adults.
Use Fresh, Frozen, Raw or Cooked Produce to Produce a Dish That Delights!
We'll let you decide whether you want to use fresh, raw, frozen, thawed, or cooked produce in your creations. And, depending on the age of children in-question, and the tasks involved, whether or not to involve them in design-making. Regardless, we want to share some helpful tips from our own experience creating colorful creatures – whether they be people, animals, or insects:
Celery and carrot sticks, and baby carrots make excellent arms and legs for the critter and creature designs we create on our children's plates.
Cucumber, radish, summer squash, zucchini, apple, kiwi, banana, tomato, and potato slices (when sliced in the form of a round circle) serve as a great head/face for smaller creations. Grapes and cherry tomatoes make wonderful heads for insect food art.
Broccoli, cauliflower, kale and other greens ensure our creatures have a great head of hair.
Blueberries, raspberries, blackberries, and capers can serve as eyes or buttons on clothing.
A whole banana -- in or out of its skin-- or a half of a red, yellow, or orange green pepper provides a bright, beautiful body.
A small slice of purple onion or small bit of tomato makes for a beautiful smile.
See lots of wonderful produce creatures and critters on our "Kids Fruit & Veggie Fun" Pinterest board.
Provide a Smooth, Healthy Distraction
If a cute produce creature made solely with fruit and/or vegetables isn't enough to entice children to eat the produce used to create it, consider adding something smooth and enticing such as guacamole or a thick smoothie to surround or in which to incorporate your artwork.
Given our love of great guacamole and the many mixes we offer, we had to share one of our favorite produce creatures (crocamole) that combines a dip made from fruit (yes, avocado is a fruit) with fresh vegetables. Thanks for the idea http://kidsinthekitchen.ajli.org!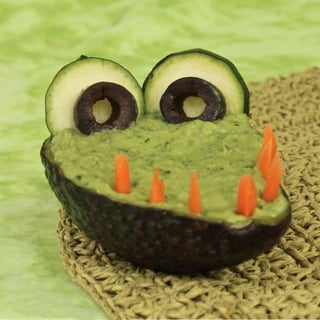 And, given our love of #deliciousandnutritious smoothies and the many mixes we offer, we're also huge fans of this cute-as-a-bunny smoothie bowl recipe found at http://potluck.ohmyveggies.com/bunny-smoothie-bowl/ that provides for a double punch of fruits and vegetables.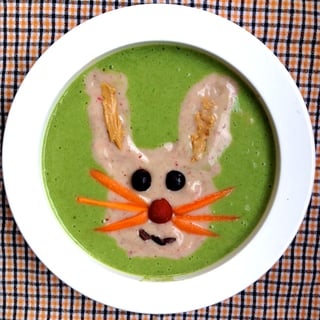 Use Our Containers to Keep Those Creative Juices Flowing
One last favorite crafty idea to get the children who are near and dear to us to enjoy the great taste and health benefits of produce is to encourage them to drink and eat recipes made with our lemon and lime juice. They've seen how much fun it is to create "juicekins" -- like the ones shown here -- from empty Concord Foods lemon and lime juice containers, which motivates them to ask us to serve beverages and dishes that contain it! Learn about our juicekin summer photo contest and get inspiration for creating your own juicekins on Pinterest.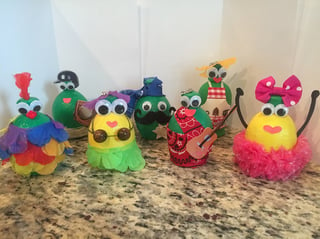 Share Your Sweet Creations
We'll be talking about fruit and veggie crafts using #foodart #fruitandveggiefun #juicekin #produceup #fortifywithfruit and #vegout on Twitter, Facebook, Instagram, and Pinterest. We want to hear about and see what fun creations you come up with, so please do share.