---
Particularly for those of us who endure colder winter temperatures, one of summer's greatest pleasures is dining outdoors. Doesn't just the mention of the word "picnic" call up lots of great memories or make you look forward to time spent in the warm, fresh air enjoying life's simple pleasures with family and friends? If you're like us, though, we know there's times you struggle with what food to pack. We're here to share tips that make sure guests love and eat what we serve – and as a fortunate consequence – mean we don't have to throw out a lot of left-over food that's been sitting in the warm sun all day!
---
Make It Grabbable!
Our experience with picnic lunches or dinners for a trip to the park, beach, or other favorite outdoor venue is that it's best to pack a lot of finger food or at least food that doesn't require cutting with a knife. Since snacks and meals eaten at the beach or a park are often consumed while sitting on a blanket or a bench, it's best not to serve food that requires guests to keep their plastic or paper plates perfectly level or steady. Plus, just by its nature, a picnic is usually served where and when there's lots of things to distract your family and friends from eating, such as waves to be waded in and volleyballs to be punched. You'll want to offer food that can be grabbed and eaten easily on the go.
Pack Up the Produce!
But, just because food should be easy to grab and eat, doesn't mean it can't still be yummy and healthy. In fact, we think some of the yummiest and most vitamin- and antioxidant-rich food is the most grabbable! Due to the ease of eating them outdoors, sandwiches and chips may have been your go-to picnic food, but we're here to share why we believe you should move "beyond the bread."
When you wash and cut fruits and veggies for a picnic – and you can easily pack them in a large zip-lock baggie – you're packing what we like to call power food – food that packs a healthy punch. Your friends and family will get healthy carbohydrates to keep them energized for the day's activities. Plus, since fruits and vegetables contain a fair amount of water, you'll be helping loved ones stay hydrated on a warm day. And, your guests will be getting other great things their body needs like vitamins and fiber.
What picnic guest doesn't love to snag a fresh strawberry or a piece of cantaloupe that they can quickly dunk in some yogurt dip before running off to play wiffle ball? Or, some fresh carrots or cherry tomatoes that they can dunk in guacamole? We think your guests will also love to grab and gobble vegetables and fruit skewers like these from Food.com http://www.food.com/recipe/colorful-fruit-kabobs-304813. As they describe them, "this is basically fruit salad – on a stick!" What's not to love about them?
Be Dippy!
As we mentioned above, you can make the fruits and vegetables you serve extra-special and extra-tasty, by serving healthy, yummy dips with them. Check out our ideas for dips for vegetables that you can make with our Guacamole and Salsa seasoning mixes, and to keep your picnic powerful, think about packing some low-fat/low-sugary yogurt dip vs. chocolate sauce for guests to dip their fruit in too.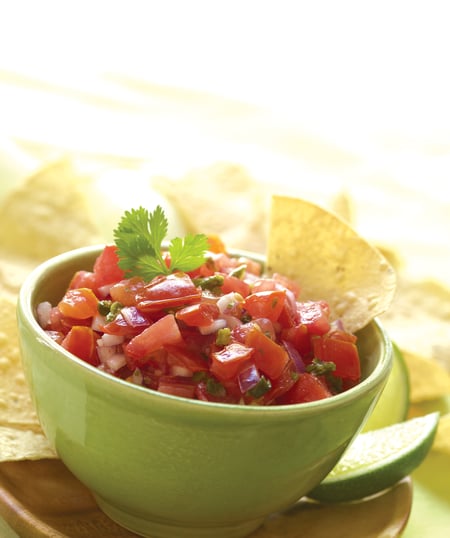 ---
We want to hear and see the power picnics you serve friends and family this summer, so please do share with us on Facebook or Twitter.
---