While we'll never be ready to usher out the more laid-back days of summer, the barrage of back-to-school advertisements, as well as the slighter cooler temperatures here in New England – where Concord Foods is headquartered – have got us thinking about what we wish for ourselves, our friends and family, and particularly you, our dear readers, this fall. And, what we wish is that all of us will stay strong this September, and not let fall's frenziness get us off track from the healthy eating and exercise habits we put in place this summer.
Staying the Course
Whether it was at walking or golf courses, we're guessing you, your family, and friends spent a fair amount of time exercising this summer. Maybe you made a commitment to walk in your neighborhood after dinner or to meet for a weekly tennis or golf game, or swim. Didn't you look forward to, enjoy, and feel great after? Well, we challenge and encourage you to keep those healthy habits going.
We believe that, with a little creative and flexible thinking, you can maintain your summer exercise stride. And speaking of courses, why not make fall a time of investing in and beginning classes and activities for the body, not just the mind? Why not try that yoga or Zumba class at your gym or one offered through a local adult education program. Or, check out the pool at your local high school?
Pack It Up to Prevent Packing It On
We loved the August 9, 2015 edition of Parade Magazine – particularly its cover photo (shown below) – that focused on what Americans are packing for both themselves and their children for lunch these days.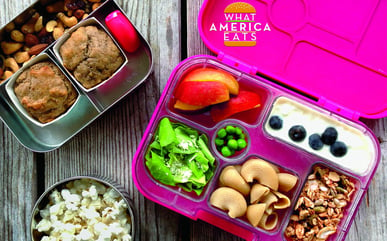 We're huge fans of the great new "bento" lunchboxes, such as those in the photo, because their separate compartments allow you to pack and store several healthy smaller snacks such as cut-up fruits and vegetables and dips like yogurt and guacamole, and hummus. Hey, we all know kids don't like it when different foods run together, and if you're like us, we're betting you're not a big fan of it yourself!
Because summer offers such a great bounty of enticing fruits and vegetables, it's likely you made produce – like berries and summer squash – a key component of summer snacks and meals. Regardless of the type of pail, box, bag, etc. you use, as we did regarding summer exercise habits, we encourage and challenge you to pack up healthy lunches and snacks for you and your family so you don't pack on the pounds this fall. Check out or revisit our blog posts regarding packing a power picnic and vegging out for ideas about packing – or simply making and serving – snacks and meals that incorporate lots of healthy produce. And, don't forget that grab-and-go smoothies such as the kale and apple and blueberry banana ones you can make with our Nutritious Smoothie mixes are an easy way to continue to incorporate lots of healthy produce in your and your family's diets this fall and winter.
Show Us How You are Staying Strong
We want to see and hear how you are staying strong in September, so please do share how you are meeting this challenge with us on Facebook, Twitter, or Instagram (#stayseptstrong).