Ah Spring! Gardening and other outdoor activities begin, nature nudges trees and flowers to blossom and holidays like Easter and Mother's Day provide new opportunities for gathering with loved ones. For many, brunch is the perfect meal to serve during the early spring. And a favorite staple of brunch across the country is eggs. Not only are eggs filled with protein and nutrients, they have naturally represented fertility and life across many cultures and for Christians the egg symbolizes the Resurrection.
For foodies who are less focused on what the egg represents and more concerned with the simple joys of its ability to be a conduit for flavor, the egg is its own cause for celebration.
One of the classic flavor pairings for the egg is with Hollandaise Sauce. Known to be one of the most difficult sauces to perfect, its rich butter and lemon flavors delicately season plain eggs, poached fish and vegetables.
If you'd love to include Hollandaise on your brunch menu, but don't want to mess up the complicated emulsion, consider Concord Foods Hollandaise Sauce Mix.
Concord Foods Hollandaise Sauce is easy to make, requiring only one cup of water!
Recently, The Army Mom tried her hand at Eggs Benedict using Concord Foods Hollandaise
Sauce mix. After a successful trial, she believes that even "Julia (Child) would say this Concord Foods Hollandaise sauce is perfection." You can read all of The Army Mom's thoughts on our Hollandaise Sauce mix as well as her success at poaching eggs for the first time on her blog.
http://www.thearmymom.com/2014/04/create-perfect-eggs-benedict-for-your.html
If you are planning a brunch with more than a few people and want to serve a buffet style meal, consider mixing the ingredients in a casserole. On the Kitchen is My Playground, blogger Tracey created an inspired Fresh Asparagus Hollandaise Casserole using a variety of brunch-worthy ingredients like fresh asparagus, celery, onion, Monterey Jack cheese, Concord Foods Hollandaise Sauce .
www.thekitchenismyplayground.com/2014/04/fresh-asparagus-hollandaise-casserole.html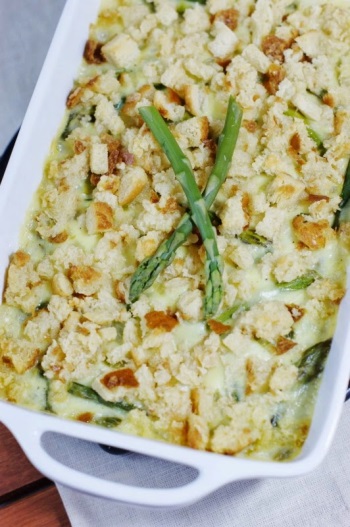 Since it's a casserole, you can prep the dish before your guests get to your home and after 20 minutes in the oven you'll have a delightful "twist," as Tracey says, on classic food pairings.
Finally, if you're planning to have children at your brunch, you may find Hollandaise a bit sophisticated for their palate. For the younger set, try this easy recipe for a breakfast burrito which uses eggs, fresh tomatoes, red onions, cheese and Concord Foods Salsa Seasoning Mix that create a delicious brunch filling for your favorite flour tortilla.
http://www.concordfoods.com/breakfast-burrito/#.U012SPmTh8E
Breakfast burritos are a fun way to introduce the younger set to the joys of brunch.
Happy Spring from your friends at Concord Foods!