Let's face it, when most of us think about food cooked on an outdoor or stove-top grill, we automatically think of grilled meat and fish. The words "grill" or "grilled" seem to immediately conjure up mouth-watering thoughts of charcoal-broiled hamburgers, perfectly-blackened hot dogs, barbecued chicken, and bourbon-glazed shrimp. Fortunately, all the gorgeous grilled fruit and vegetable recipes we've been seeing lately, along with social media posts tagged with #meatlessmonday, have caused us to decide to make this summer the one where we think outside "the meat and fish" aka protein box, and take our grilling to a healthier level.
Throw Down Some Produce
In keeping with our aforementioned quest, we're introducing delicious and nutritious produce to our grill with the following recipe ideas – ones that can be flavor-enhanced with just a few squeezes of our lime and/or lemon juices. We're hoping these recipes will inspire you to create some of your own healthier grilled dishes.
Veg Out…

With a skewer (kabob) made of a variety of bright-colored vegetables, like these recipes from Martha Stewart
By focusing on making one type of grilled vegetable a star like the ear of corn in this Food Network recipe
By grilling a vegetable like a green, red, yellow, or orange pepper that you can stuff with your preferred filling post grill.

Fire Up Fruit's Flavor…

By grilling the whole or a half a piece of fruit, like peaches.
With sliced fruit you place on the grill. Check out this recipe from allrecipes.com for grilled pineapple slices (shown above) that's sure to win you rave reviews from your grilling guests.

Go Sweet & Savory…

By mix & matching vegetables with fruit and grilling your selected combo alongside each other.
With the addition of pineapple to any grilled vegetables to make them extra sweet, as in this grilled vegetables with pineapple recipe from SparkPeople.
Serve Non-Grilled Sides, Apps, Drinks, and Desserts That Still Sizzle
While grilling isn't involved, you can still add an extra produce punch to your grilling get-togethers by serving sides, appetizers, beverages, and desserts that still sizzle because of flavors that "pop". Get ideas for recipes that include zesty, tangy lemon or lime juice, like our Mediterranean chickpea salad with lemon-herb dressing and our baby blueberry key lime pies (shown below) from our "Cookout" recipe collection.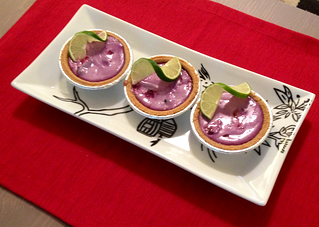 Get Greater Grilling Inspiration
You can get more gorgeous grilled produce recipes from our Grilled Produce Perfection Pinterest board. We'll also be talking about healthier grilling using #healthygrilling #producegrilling #grilledproduce #summerproduce #sensationalsummer and #summersupper on Twitter, Facebook, Instagram, and Pinterest. We want to hear and see the clever ways you, your family, and your friends take grilling to a healthier level, so please do share!