As we did this time last year in our "Staying Strong in September" post, we want to encourage our readers – and remind ourselves – that we don't have to ditch the healthy eating and exercise habits we acquired during the spring and summer for less healthy ones. It's all about preparation and organization, people! We're sharing our secrets for maintaining healthy food-related habits, no matter how crazy the pace of the fall season gets.
Line Up the Right Tools – Literally and Figuratively
We think it's so worth the investment of time and money to buy plastic leak-proof bento boxes such as those by yumboxlunch.com, recommended by Jennifer Bessinger, The Clean Food Coach, in her recent piece in "Lens" magazine, "Brown Bag It. Better". Plastic bento boxes – with distinct compartments and a place specifically for dips (see yumboxlunch sample below) – are easy to clean, won't weigh your kids' backpacks down, and allow foods and sauces that don't belong together to stay that way. Let's face it – many children won't eat certain food items if they've touched each other. And, we all know some adults who feel that way too!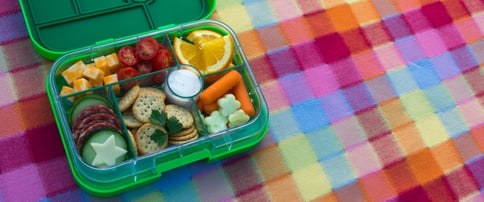 Also, if school and work settings don't allow for refrigerating lunches, you'll want to buy insulated lunch totes and ice packs, so lunch containers can be stored in the tote along with the ice pack. This will ensure cold foods remain cool and at a safe temperature to avoid food contamination risks.
Whether you pack up lunches the night before or the morning of school days, line up the number of bento boxes you need to fill, including one for you and your partner – so you've got healthy food to enjoy during the day too. Then, have some fun with the task of filling your boxes with food that's diverse in texture, taste, and color. Like all Americans, we find we only have so much time and energy to be creative these days, so we love trying to make our boxes as beautiful and enticing as they can be. We also love thinking about how our loved ones will smile when they open their "smorgasbord" boxes that contain different healthy and yummy surprises each day!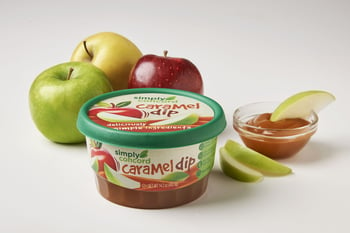 Fill 'er Up
When you fill your bento boxes with fiber-rich cut-up fruits and vegetables, you'll be filling the bellies of your loved ones too. This means you and your family will be less likely to make impulsive, bad food choices – like junk food from the break-room machine or cafeteria line. It also means everyone will likely be able to stay more focused on their school- and job-related work.
For a balanced meal that will keep students and worker bees mentally sharp, be sure your bento box food combinations include: a protein, like cheese, nuts, beans, or turkey; a fat, like avocado found in guacamole or almond found in almond butter; and the dynamic duo of fiber and carbohydrates found in fruits & veggies. To get you started, below are a half-dozen food combinations for a healthy, pretty, and delicious bento box. But, we know you'll come up with lots of other delicious and nutritious combinations!
Apple slices, Simply Concord Caramel Dip, Cheddar Cheese Slices, Almonds, Turkey Slices
Carrot sticks, Guacamole Dip, Cherry Tomatoes, Rolled-up Slices of Swiss Cheese, Tuna Salad
Individual grapes, Herb Cheese Dip, Hard Boiled Egg, Whole-Grain Crackers, Almond Butter
Mandarin oranges, Goat Cheese Crumbles, Turkey Slices, Field Greens, Macadamia Nuts
Field Greens, Salsa, Mozzarella Cheese Slices, Whole Grain Crackers, Hummus or Tuna Salad Made With Some Olive Oil
Pretzels, Simply Concord Caramel Dip, Cheddar Cheese Slices, Olives, Turkey Slices
Get inspired
Want more ideas for packing up produce-rich lunches? Check out our "Pack A Power Picnic", "Vegging Out", "Produce Up" and "Fortify With Fruit" Pinterest boards and read our post on "How to Pack a Power Picnic".
Please do share
We'll be talking about packing up healthy, yummy produce for school and work using #produceup #packupproduce #producepusher #stayseptstrong #fortifywithfruit and #vegout on Twitter, Facebook, Instagram, and Pinterest. We want to hear about and see how you pack up produce for back to school, so please do share.