Chicken with Oranges Recipe
Chicken with Oranges
Concord Foods Stir Fry Mix can be used on its own, or add mandarin oranges and other ingredients for kicked-up stir fry perfection.
Serves: 4
Ingredients:
1 package Concord Stir Fry Mix
1 tablespoon brown sugar
3 or 4 drops hot pepper sauce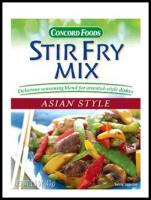 1/4 cup water
1 tablespoon vegetable oil
3/4 pound boneless chicken cut in thin strips
2 medium carrots thinly sliced
1 green bell pepper cut in 3/4" pieces
3 small green onions, sliced
1 (11oz) can mandarin orange segments, drained
1/3 cup slivered almonds toasted
1 package rice, cooked
Directions:
Combine Stir Fry Mix, brown sugar and hot pepper sauce with water. Set aside.
In a large skillet or wok, heat oil over medium high heat. Add chicken and stir fry for 2 minutes. Remove.
Stir fry carrots and peppers 2 to 3 minutes. Add green onions and stir fry 1 minute. Add chicken and seasoning mixture and cook. Stir constantly until sauce thickens and glazes vegetables (1 to 2 minutes). Stir in oranges and almonds; cover and heat 1 minute. Serve promptly over hot cooked rice.
Category: Main Courses