CONCORD FOODS CELEBRATES
APPLE SEASON
Tuesday, September 24, 2013
Concord Foods is well known for traditional fall products, such as Candy Apple Kits, Caramel Apple Kits and Caramel Apple Wraps. These products have been popular with American families since 1971 because they are delicious and easy to make. Fresh caramel apples can be made in minutes using the Caramel Apple Wrap. There are only two easy steps!
To promote the Caramel Apple Wrap during apple season, Concord Foods is doing a digital promotion with apple orchards throughout the nation. Weekly, an apple orchard will be featured on Concord Foods' Facebook page. Interesting facts and picking information will be provided. In addition, each orchard will give away a select number of Caramel
Wrap samples to their 'U Pick' customers.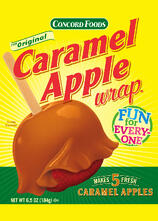 Concord Foods is also working with food bloggers throughout apple season. Bloggers are reviewing the Caramel Apple Wrap product and are developing alternative recipes.
Concord Foods' Caramel Apple Wrap is available in produce departments nationwide in 24 packs and 96 pack floor shippers. Themed Halloween shipper displays are available upon request.
Concord Foods Incorporated is a leading supplier of retail food products and custom ingredients to nationally recognized supermarkets, food service operators and leading food manufacturers. Concord Foods retail division offers a wide variety of produce friendly items from Candy Apple Kits to produce seasoning mixes. Consumers count on our quality products to glaze pies, create guacamole and batter onion rings. For more information, please visit www.concordfoods.com.