Easy Roasted Potatoes Recipe
Easy Roasted Potatoes with Concord Foods Seasoning
Concord Foods superb blend of spices, minced garlic and crushed herbs help you to prepare delicious roasted potatoes in minutes! One Roasted Potato Mix package is enough to prepare 5 pounds of potatoes.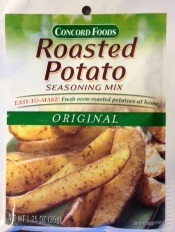 Ingredients Needed:
3 to 5 medium potatoes (about 1 pound)
1 tablespoon of oil
1 tablespoon Concord Foods Roasted Potato Seasoning Mix
Directions:
Preheat oven to 400 degrees (F). Wash potatoes and pat dry.
Cut potatoes lengthwise in half. Placing cut (flat) side down, cut each half lengthwise onto 4 or more wedges. Place in large bowl.
In small bowl, mix 1 tablespoon of Concord Foods Roasted Potato seasoning mix with 1 tablespoon of oil.
Pour seasoning mixture over potato wedges and toss until evenly coated.
Place potatoes on a large baking sheet. Bake for 30 to 40 minutes, turning them over once after 15 minutes.
Cooking times will vary depending on the desired crispness.
Category: Side dishes