The Sunkist Lemon Ice Smoothie Recipe
Sunkist* Lemon Ice Smoothie
Concord Foods and Sunkist* bring you a refreshing recipe easily made with fresh lemons, ice cubes and water. It's a cool and zesty drink that your family will cheer for in hotter months, and enjoy any time they need a taste of summer.
Serves: 3 (8 ounce servings.)
Ingredients:
1 package Sunkist* Lemon Ice Smoothie Mix from Concord Foods
2 - 3 fresh lemons squeezed into juice (approximately 5 Tbsp. of fresh lemon juice)
1 1/2 cups water
8-9 large ice cubes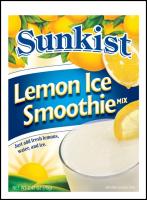 Directions:
In a blender, add lemon juice, ice, contents of smoothie mix pouch and water.
Blend on HIGH for one minute or until you have a smooth slushy consistency.
*Sunkist is a registered trademark of Sunkist Growers, Inc.
Category: Beverages