Pineapple Smoothie Recipe
Tropical Pineapple Smoothie Recipe
Concord Foods' Tropical Pineapple Smoothie makes your kitchen the entrance to an island retreat. You just need fresh pineapple Concord Foods' smoothie mix, water, ice and a good blender to enjoy a refreshing drink, without the airfare! Just look at the back of the package to see why its worth reaching for your blender.
Serves: 3 (8 ounce servings.)
Ingredients:
2 cups fresh pineapple chunks*
2/3 cup water
1 1/4 cups ice (8 large ice cubes)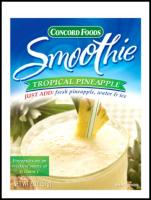 Directions:
In a blender, add pineapple, ice, contents of smoothie mix pouch and water.
Blend on high for one minute.
*Substitutions: Pineapple Smoothies can also be made with 2 cups of pineapple juice in place of the pineapple.
Category: Beverages