Seasoned Baked Potatoes Recipe
Seasoned Baked Potatoes with Concord Foods' Potato Topping
Concord Foods quickly livens up your baked potatoes with our special blend of onion, chives, butter and spices. One Potato Topping pouch is enough to season about 5 baked potatoes. See our blog for advice on best varieties of potatoes for roasting and other uses.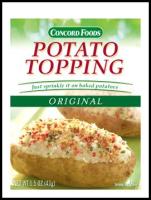 Ingredients Needed:
Directions:
Bake potatoes according to your favorite method. (Basic - Bake potatoes in a pre-heated 425 degree oven for 45 to 60 minutes.)
Slice baked potatoes in half.
sprinkle Concord Foods Potato topping on.
Serve with butter or sour cream.
Hint: Makes a great seasoning for rice, salads, scrambled eggs or added to your soups or omelets.
Category: Side dishes